If you are wondering "what is the best weight bench to buy today", you are the right place. Whether you are looking for a flat weight bench, an adjustable weight bench (aka FID bench) or a workout bench, we've got you covered. We'll be giving you a round up of the top rated and best selling benches available in the market right now.
Generally, people might think that finding the best weight bench isn't really one of the most important issues. Shouldn't you bother with the exercise machines and weights to use instead?
But the truth is that the right weight bench for home use can be a crucial part of your workout equipment setup. It allows you to work out at a proper angle and helps you concentrate on the right muscles. It also helps in lessening the chances of an injury.
A quick comparison and overview of the products that we`ll discuss today!
The trouble is that even when you read a lot of weight bench reviews or guides, it can be very hard to find the right one. There are quite a few types of weight bench models to choose from, and even looking over all the available models on a single site like Amazon can take a lot of time.
So that's why we've listed down several excellent weight benches you can choose from. At least one of them should provide for your needs.
Reviews of the Best Weight Benches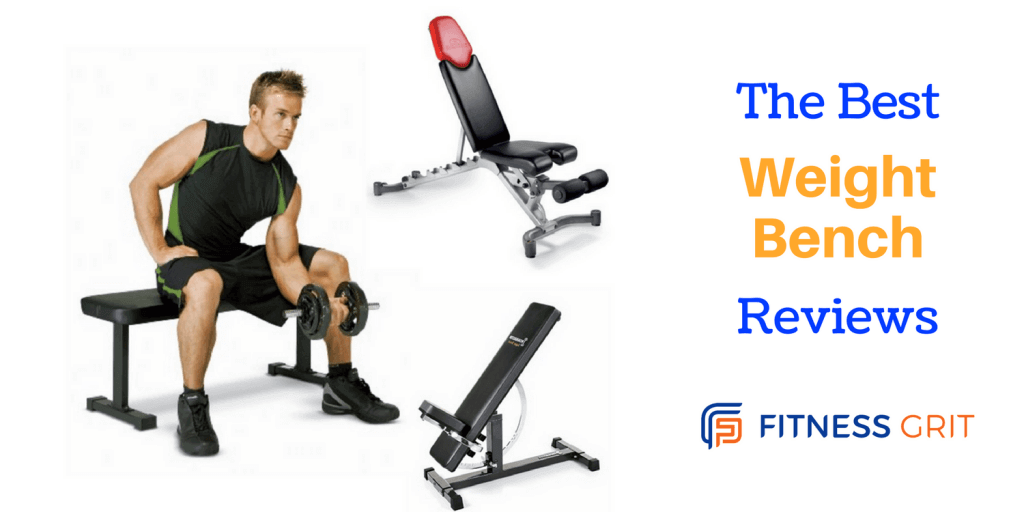 The flat utility bench is a classic and proven piece of equipment for workouts. The flat bench press is not just the most popular exercise for your chest, but is most probably the most popular exercise in any gym.
This Marcy bench is a great starter bench, as it's extremely affordable and it's made by a well-known manufacturer. It's quite compact so it doesn't take up a lot of space at home, but it can handle up to a combined weight of 300 pounds.
You can easily slide this utility bench under a power rack, squat rack, power cage or smith machine.
Most people find it easy to assemble, and it's good for a wide variety of exercises. Of course, many are pleasantly surprised by the low price, although some people wish that it can handle more weight.
It's a low price flat weight bench, and yet it offers a lot of value.
It's actually quite easy to assemble, and many take only half an hour to complete the assembly. A few even manage to get it done in 5 minutes!
It's extremely stable and sturdy. Many say that they haven't had any wobbles even after constant use.
It's a compact workout bench that's really lightweight, so you can move its location or store it away very easily.
A few did have some trouble assembling this, because the instructions aren't as clear as they ought to be. As a result, they end up with a bench that isn't level.
Its compact size means that overly large people may find it too small.
Experienced users who have progressed to heavier weights may find the 300-pound limit a bit too restrictive.
The Reebok Professional Deck Workout Bench is a great piece of equipment for any commercial gym, home gym, or training studio.
If you go to Orange Theory Fitness, you might have spotted the Reebok workout bench.
Many personal trainers use this multipurpose workout bench for their personal training sessions with clients (both male and female) and have given rave reviews for it.
It is extremely versatile as it can be used for cardio workouts e.g. HIIT training, Les Mills BodyPump and stepping workouts. In addition, it can be converted into a flat, incline and decline weight bench for strength training. You can even use resistance tubes that can be hooked onto the Deck's integrated locators for a varied workout.
It can be used outdoors as it's hard-wearing and water resistant.
It's easy to transport and it comes fully assembled.
It can be easily stored in a closet or even under your sofa.
Storage is made easy with the internal storage compartment for weights and resistance tubes.
It's highly versatile and great for personal trainers and small home gyms.
It doesn't come with any padding and some find the gripper bumps on the surface uncomfortable when using it as a weight bench. However, it can be easily solved by using a towel under your head and a yoga mat to make it much more comfortable.
If you are 5'7″ and above or you have a long torso, you might find the the bench a little too short. You might have to sit at the edge in order to also have my head supported.
The user weight limit is 242 lbs and it may be limiting if you want to bench heavy weights. Although some users have tried benching with 200 lbs weights and it still held up to it.
This offers a lot of versatility, since it also doubles as a step bench platform for step exercises, bodypump and circuits. You can also use it as an incline, flat, and decline bench for weightlifting with 3 different angle settings.
This offers 2 height positions for you to choose from. It even has clips so you can attach resistance tubes for greater variety to your workout.
Obviously the versatility is terrific. It saves you from buying several types of workout equipment, since you can use it in so many ways.  
There's no complicated assembly procedure to go through first.
It's easy to transport as it is very light at just 26.5 pounds. Great for personal trainers who need a portable bench.
Storing it away is easy too. You just need to fold the risers in, and then you can just lean it against a wall.
It even offers internal storage under the bench.
You can't really use heavier barbells or dumbbells with this as the maximum load weight is 375 lbs. 
It doesn't come with any padding so using it as a weight bench may be uncomfortable for some. A few did say that using a towel under your head and a yoga mat can make it much more comfortable.
BowFlex is a well recognised brand for quality home gym equipment at reasonable prices. The BowFlex SelectTech 3.1 Adjustable Bench is one of the bestselling weight benches that BowFlex manufactures and there's no surprises why.
As a budget bench, the BowFlex 3.1 is sturdy and it's a surprisingly high quality FID bench. It can be easily adjusted to 4 different positions namely, flat, 45 degrees and 90 degrees incline, and 30 degrees decline. These 4 positions can be used for over 30 different strength training exercises. It is an ideal bench for dumbbell, barbell, rack and cage use.
The maximum user weight for this bench is 300 lbs so do not have to worry about it collapsing under you. The maximum lifting weight is 180 lbs and its total maximum weight limit is 480 lbs. It can be easily assembled and compact enough for it to fit into an apartment or garage gym.
It's value for money and affordable for its quality.
The 4 positions provides variety to workouts you can do.
It's easy to assemble. It takes most people 15 – 20 minutes to do so.
It's compact enough for a small home gym or garage gym.
It has a 15-Year warranty on the frame construction and 1-Year warranty on the upholstery.
The seat is not adjustable. 
For intermediate to advanced users, you may wish for more position options.
If you are about 300 lbs, you might find the lifting weight of 180 lbs quite limiting.
A small number of users thought that the new weight bench smelled like burnt rubber. But airing it for a couple of days did solve the issue.
Rep Fitness is a Colorado-based company that builds a lot of high quality workout equipment. This adjustable bench is a great example, as it can handle a total capacity of 1,000 pounds.
It offers flat, incline, and decline positions, so variety isn't a problem. In fact, it offers 4 seat adjustments, plus 7 ladder positions ranging from -20 degree decline to 85 degree incline.
It is 54 inches long and 17.5 inches high. It also has rollers that can keep your legs locked in place, which you'll need when in the decline position.
A lot of people love this, and in fact some have wondered how Rep Fitness can continue to sell this at this $300 to $350 price range. Its features make it a strong competitor for weight benches that cost twice as much.
Its size means that it can accommodate even very tall users that measure 6'4″.
It is very durable. Instead of welds and pins you get a solid steel bolted ladder. This explains why Rep Fitness can offer a 10-year warranty for the frame.
With so many adjustments possible, you can get positions for many types of exercises.
It's quite comfortable too as it has a 2.5-inch pad covered in durable textured vinyl.
It weighs about 85 pounds, so moving it all by yourself is very impractical.
It is also rather large, so it will take up quite a big area in your house.
So you want something that's really strong? XMark redefines the meaning of heavy duty with an emphasis on "heavy" with this XM-7630. This is made with 11-gauge 3 by 2-inch construction and can handle a weight of up to 1500 pounds, and yet it somehow sells for less than $300.
This is so tough that XMark offers this with a limited lifetime warranty.
You can adjust from decline to incline by choosing among 7 back positions ranging from -20 degrees to 85 degrees. Even the seat is adjustable as you can pick one of 3 seat positions. The padding is excellent, with 3-onc Duracraft padding that's resistant to tearing and sweat. You even have a foot hold down bar to keep you securely in place.
Don't worry about its stability, as its feet are bolted on and they're skid-resistant. But moving it from one location to another shouldn't be all that hard since it has transport wheels built in.
It's pretty much indestructible. As the wise gym rats say: with inferior machines you pay every time you use them. With the durable ones, you just pay once.
It can accommodate tiny and tall users.
It's quite comfy to use.
The assembly is easy, although it may take about an hour.
It's very stable.
The tools for assembling this that come with this bench are a bit on the simplistic side. So hopefully you have your own power tools.
It may be too big for some apartments, but then again that's true for any bench that can accommodate large people.
Considerations When Choosing a Weight Bench
Before you decide on which weight bench to buy, please make sure you consider the following issues:
Can You Afford It?
We've made sure to pick affordable weight benches on our list, but you're always free to choose another type. But if that's the case, you better make sure that you check the total cost and that includes the shipping.
You should also consider the value you get for your money. There's really no point in buying a bench that costs a thousand dollars, if you're not going to use it all that much.
But you shouldn't focus only on the most affordable weight bench models either. If it's too cheap, chances are that something is definitely wrong with it.
Is it the Right Size?
Some may be too big for you, while others may be too little for your frame. You should check out the benches in your local gym first, so you know the most suitable bench dimensions for your specific height.
Its size and weight will also matter too if you will want to move it around a lot. Storage can also be an issue, especially if you don't have much space in your home.
How Much Weight Can It Accommodate?
It needs to be able to handle your body weight, and the heavy weights you're going to lift. This is a crucial safety issue, because some benches break down with too much weight and that can get you injured.
If you're only considering basic weight training, then an entry-level weight bench will do just fine. But if you're going to progress in the weights you can handle, then you need something much sturdier.
What Other Safety Features Does It Offer?
You should check out any feature that boosts the stability and safety of the weight lifting bench. These features may include superior construction materials, levelers, leg braces, and other safety options.
What Angles and Positions Do You Need?
For some folks, a simple dumbbell weight bench is all that you need. With it, you can already exercise various parts like your chest, triceps, legs, back, and abs.
But you may also want a bench that can give you an adjustable upright position. Other types can offer preset angles, and may even give you a decline angle. 
How Comfortable Is It?
The comfort level offered by bench is important as well. You should consider the thickness and the quality of the padding.
The comfort level offered by a bench can be hard to gauge until you try it out for yourself. So if you're buying online, make sure you read the reviews so you can note what other people are saying about the comfort level it offers.
Escape Fitness Deck vs Reebok Professional Deck Workout Bench
We have added on this section for readers who are interested in getting a workout bench to compare two highly popular workout benches. Please scroll down to read our best weight bench recommendations if you are not interested in getting a workout bench.
The Reebok Professional Deck Workout Bench is a very close competitor of Escape Fitness Deck and many have asked, "Which of these two workout benches should I buy?" So we decided to add on this section to do a quick comparison of the key differences between these two very popular benches. 
Both workout benches are gym quality and highly rated among its users. In fact, both of them are almost similar, except for these 3 points to consider:
The Escape Fitness Deck is slightly longer than the Reebok ​Workout Bench.
Although both have no padding, the Escape Fitness Deck is slightly more comfortable to lie down on as compared to the gripper bumps on the Reebok Workout Bench.
The Escape Fitness Deck has a higher weight limit as compared to the Reebok Professional Deck. 
If you are 5'9″, you will find the Escape Fitness Deck more comfortable when you lie down on it as compared to the Reebok Professional Deck Workout Bench. If you bench more weights, the Escape Fitness Deck will be more suitable too.  
Our Best Weight Bench Recommendations
So which one do we recommend? The best one for you depends on what weight bench benefits or features you need or want and what your budget is like.
If you just want a simple utility weight bench under $100, then the Marcy weight bench is your best bet. But if you have a little more cash and planning to carry heavier weights, you might want to consider the Rep 1000 lb Rated Flat Weight Bench instead.
If you need a multi-purpose workout bench for weight lifting, resistance bands training, and for aerobic step exercises, the Escape Fitness Deck Workout Bench and Fitness station is more suitable.
If you are a beginner and looking for an adjustable weight bench under $150 (as of March 17), you might find the very popular Bowflex SelectTech 3.1 Adjustable Bench a good choice for you.
The Rep Fitness Adjustable Weight Bench is a much better choice for most. The Rep Fitness Bench is not that expensive and it can accommodate large users. It can handle a lot of weight and it's extremely sturdy. Functionality wise, it offers many angles and positions and it's quite comfortable to use.
If you're planning to use a lot of optional attachments, then the Ironmaster Super Bench Adjustable weight-lifting Bench is your baby. It's tough and dead useful, and it offers a wide variety of uses.
However, if you are planning to lift heavier weights, the XMark Adjustable Dumbbell Weight Bench XM-7630is probably the best weight bench for your money. Its 1500-pound weight capacity and lifetime warranty means that this can pretty much last a very long time. 
Share this guide - and help somebody today!
Fresh Marketplace Updates in your Inbox.
We don't spam. This is 100% Goodies!