If you're trying to build up your strength and muscles working out at home, then buying the best adjustable dumbbells is a very sensible option. An adjustable dumbbell set is very safe to use, and it doesn't take up as much space as a set of regular dumbbells.
So if you are wondering what is the difference between regular and adjustable dumbbells?
Fixed dumbbells are a set of dumbbells with fixed weights, so one dumbbell can weigh 5 pounds, and another can weigh 8 or 10 pounds. An adjustable dumbbell, on the other hand, is a single dumbbell on which you can change and determine the weight you will put on it.
A quick comparison and overview of the products that we`ll discuss today!
With an adjustable dumbbell, you just usually turn a lever to determine the weight you want to lift. You don't have to get up and then pick another dumbbell with the weight you want.
The question remains, however: just what is the right set of adjustable dumbbells for you? That depends on several factors, most notably the price, how easy it is to adjust the weight, and the overall durability of the dumbbells.
So to help you out, here are several of the top adjustable dumbbells you can get for your home gym. Before you simply buy the first Xmark adjustable dumbbell you stumble upon, here are some of the adjustable dumbbells you need to look at first.
Reviews of the Best Adjustable Dumbbells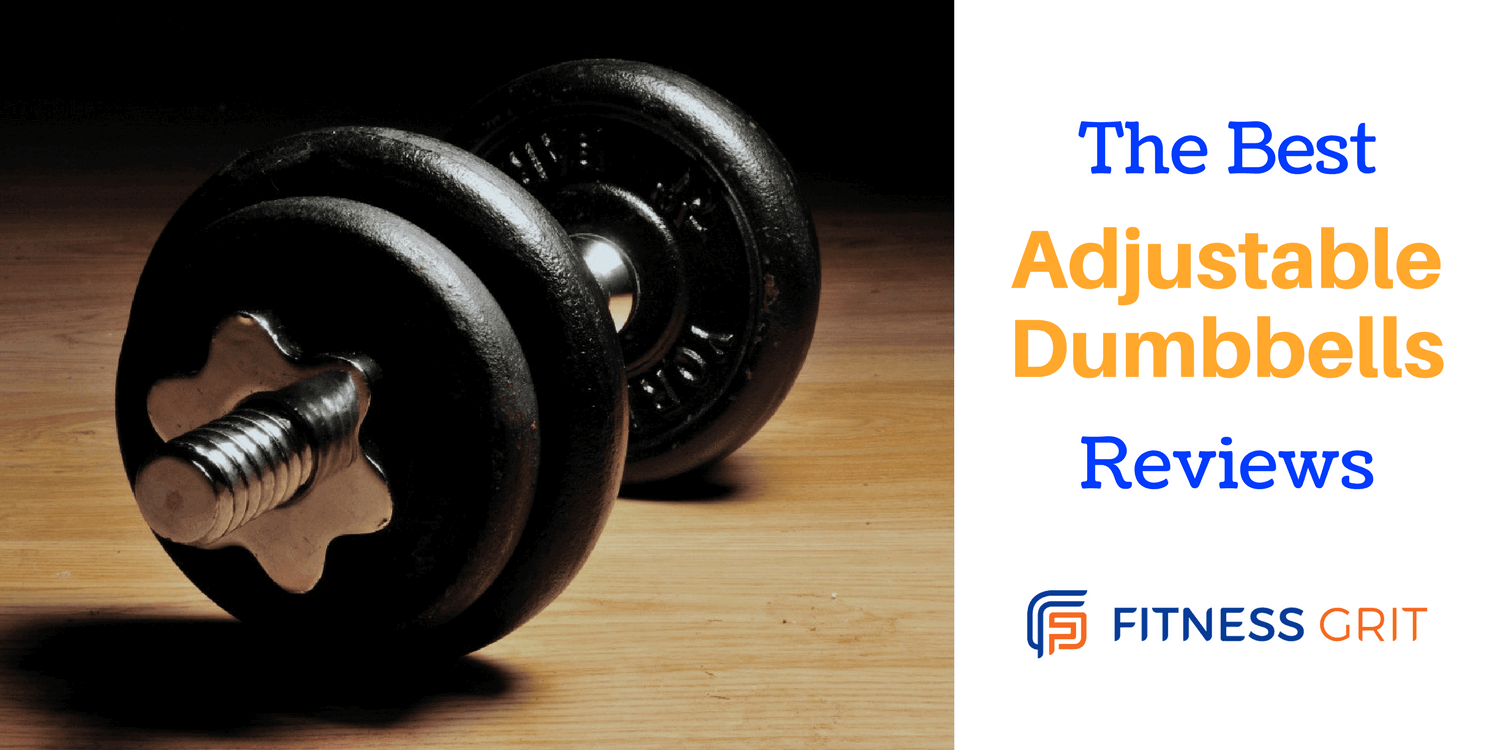 The use of "block" in the name is quite apt, since it really does resemble some sort of block with the square weights. There's a space in the middle at the top, and then you have to put your hand in vertically.
There are no dials or any moving parts here to set the weight. But changing the weights will take you only 10 seconds at the most once you get the hang of it.
It's very easy to use, and the handle is coated with rubber so your grip is secure. Also, the plate sections don't wobble or rattle at all.
Many of the customers who have bought and use it also recommend it. They note how easy it is to use, and they also recognise that it's one of the most durable adjustable dumbbells around.
It's not all that complicated to adjust the weights.
You can buy a 50-pound set if you're a beginner, and then later you can expand it to a range of up to 70 or even 90 pounds.
It's high quality and made in the US, and the warranty is for 10 years of home use.
It even looks good, and it doesn't take all that much space either. So you can just put this set anywhere and it won't be an eyesore.
It can be used as push up bars.
Heavy lifts with wrist straps might be challenging due to the "cage design".
It's not complicated to adjust the weights but changing weights might take a couple more seconds as compared to other models.
This is the most expensive set of dumbbells on this list, but that doesn't stop from being one of the most highly-rated dumbbells you can find online. It's a high quality dumbbell and an obvious choice if you can afford it.
The weight on the dumbbells range from 5 to 75 pounds, and you can adjust the weight in 2.5-pound increments. It doesn't really take all that long to change the weights.
The weights are square in design, so there's no need to worry that it will roll accidentally. This square design also allows for a very compact configuration, as you only need 2 square feet of space to accommodate it.
The build is very sturdy, as it's made with welded steel and the handles are chrome-plated. It's extremely durable, and the manufacturer knows it—they offer a limited lifetime warranty.
You even get a couple of freebies with your purchase. You get a stand for the dumbbells for free, along with an exercise poster that's very helpful for beginners.
Most home gym users really like this, and many even say it's better than the dumbbells they see in commercial gyms.
The weights are very secure, which is a relief when you're using much heavier weights.
The design is very compact, so storage isn't a problem at all. In fact you can just display it in your home gym, as it looks nice.
It's extremely durable, and many buyers have commented on how it seems like brand new even after 2 to 4 years. Parts haven't broken because there are no plastic parts, and even its looks are preserved well.
The stand is just perfect for the dumbbells.
You can buy an add-on kit that gets you up to 120 pounds on each dumbbell.
Changing the weights isn't quite as efficient as what you'll find in other dumbbells.
The more weights you put on it, the longer it becomes.
This is not for the budget conscious.
For beginners, the 45-pound limit for each dumbbell in the Universal PowerPak is just right. The weights can be changed in 5-pound increments by using a dial.
This comes with a stand, and it serves up the dumbbells like it's a raised tray. You just turn the dial on the side for the weight you want, and you can lift the dumbbells and start your workout.
Since it comes with a stand, you won't have to worry about storage and you won't have to put them away in a closet somewhere. At least the look is good.
The durable rubber handle is nice to hold, and it comes with a non-slip grip. The iron weight plates are coated, and the patented plate-locking mechanism holds the weights securely in place.
It comes with a stand, so that saves you at least a hundred bucks. Also, it keeps you from getting the dumbbell from the floor, as that can lead to back pain and injury.
Changing the weights is very easy. All you need to do is to turn the dial to the weight and that's it.
It's very durable, and it can last for years of regular use as long as you don't abuse it. So you really should just toss it on the floor when you're done with it.
The weight limit is just right for beginners and for women.
The 45-pound limit may be too limiting for some. The problem here is that you can't buy an add-on kit to increase the weight limit.
While the weights won't fall off, it does feel like it will. There's some sliding going around, so you can't use this on the floor to do pushups.
You can only change the weight in 5-pound increments.
It's very common for high quality dumbbells to cost several hundreds of dollars. But this is one of the most affordable adjustable dumbbells since the price doesn't even go into 3 digits.
Of course, it's not just the price that makes it so highly recommended among the customers who have bought it. It may be a low-cost option, but it's a high quality product.
Here, each dumbbell can go up to 52.5 pounds each. You can change the weights in just 2.5-pound increments, as you have 4 pieces of 1.25-pound round weights to attach to each end of the dumbbells.
Changing the weights is very simple, although it can take some time. You have a collar at each end that you unscrew to remove or put on weights, and then you screw the collar back on.
This means that once the weights are in place, they don't move around. You also have a rubber washer for each collar, and 6 spare rubber washers come with the purchase.
It's very durable. The weights are made with high quality cast iron, while the handle is chrome.
The handle is textured, so you can have a more secure grip.
You can change the weight by 2.5-pound increments, so you don't shock your system by jumping up to too much weight.
The weight will absolutely not slide around. It will stay in place as you do your exercises.
It really does take a while to change the weights. You have to unscrew and screw in the collar, and also you have to add up the weights yourself.
The paint on the cast iron weight plates may chip off after a few months of use.
The weights are round, so they can roll.
The bar can reach more than 16 inches long.
The total weight may not be enough for some gym veterans who prefer much heavier weights.
This is a pair of dumbbells meant for beginners, since the limit for each dumbbell is just 25 pounds each. It also comes with a nice case to hold the dumbbells and the round weights.
The handle bar itself weighs 5 pounds, and each plate weighs 2.5 pounds. So by adding a plate on each side of the dumbbell, you can increase the resistance by 5 pounds for each dumbbell.
To change the weight, you just need to remove the locking pin and then you can set the number of plates you want. Put the locking pin back in place, and the weights are properly secured.
For such a simple design, the price is a bit on the high side. But then it offers just about everything you need in a dumbbell set for beginners.
It's very compact. After all, at the most you just have 4 plates on each side.
Everything is made heavy-duty steel, coated with chrome. So it looks nice, and it will last for a very long while.
The free tray makes it easy to store without worrying about it rolling.
The weights are secured firmly in place. There's no sliding around.
The 25-pound weight limit is simply not enough for serious body builders who ned a lot more weight to use for their exercises.
Changing the weights may be simple, but it does take a bit of time.
You can only change the weights in 5-pound increments.
 
Here we have a pair of dumbbells that doesn't just look great. It works extremely well too.
It works for beginners very effectively, since the weight starts with just 5 pounds for each. When you're able to lift heavier weights, you can adjust the weight without having to switch to another dumbbell.
When you being to progress to a heavier weight, you can do so gradually. You can increase the weight by just 2.5 pounds so your body isn't shocked by the suddenly heavier weight you have to lift.That gradual increment change happens for the first 25 pounds. After that weight range, the increment increase is by 5 pounds each time since you're strong enough to handle it.
The weight range actually goes up to 52.5 pounds. So after you become an intermediate user, you can still find this very useful for your strength training workout regimen.
The change in the weight doesn't require some complicated procedure either. All you really need to do is to turn the dial.
Once you feel this pair of dumbbells in your hand, you'll notice that they feel good and comfortable. The grip is designed to feel natural, and the ergonomic shape fits nicely in your hands.
This thing is also quite sturdy. Even the tabs that lock the metal plates in place are also made of metal too.
This is meant to last for a very long while, and it even keeps its looks through the years. It comes with a 2-year warranty for the parts and for the weight plates.
Of course, you still will want to avoid dropping them on your hard floor willy-nilly. They're not like barbells that can take that kind of abuse, and besides you may also damage your floor.
All in all, this is a very handy set of dumbbells to have in your home. You certainly don't have to clutter your place with 15 sets of dumbbells when you have this pair of adjustable dumbbells instead.
With this, you can do a wide variety of exercises for your legs, chest, back, abs, arms, and shoulders. Unless you become a serious weightlifter who needs up to 90-pound dumbbells, you're going to find this useful tool for your workouts for your whole life.
It's easily adjustable.
For up to 25 pounds, you can change the weight in 2.5-pound increments so you don't shock your system.
It reaches up to 52.5 pounds so even intermediate users will still have use for this.
Changing the weights is very easy.
It looks great.
It's sturdy and should last you a very long time.
Of course, there's the price. But then again it does last long and offers features that offer great value for the money.
It may also be a bit lengthy. This extra length may make a few exercises more awkward to perform.
The weight range may also not be enough for larger athletes who require heavier weights to progress.
How safe are adjustable dumbbells?
They're very safe, and they're much safer than barbells. At least with dumbbells, you don't need spotters. But you still need to take some precautions, so here are some safety tips to help you out.
Always start out with the lighter weights if you're just a beginner.
When you feel the need to increase the weight, go to the next heaviest. Don't jump to a much heavier weight.
If you feel any pain, stop right away. Maybe you can reduce the number of your reps, or you can lower the weight.
Store the dumbbells in their proper place. You don't really want to trip on them if you just keep them lying on the floor.
Our Top Adjustable Dumbbell Recommendation
While every set of adjustable dumbbells here can suit your needs, our recommendation is for you to get the PowerBlock Elite Dumbbells. It offers everything you need, whether you're a beginner or a power user.
The weights are secure, it's easy to use, and the price is very reasonable compared to the others. It even looks good, and its compact design doesn't need a stand or a tray.
The only hitch is that you may be unfamiliar with how to change the weights. But that's easy enough to learn and after a while you'll get used to it.
So if you're a beginner, just get the PowerBlock Elite Dumbbells. When you progress enough that you need more resistance, you can just simply buy an add-on kit for extra weights instead of buying a whole new set.
Share this guide - and help somebody today!
Fresh Marketplace Updates in your Inbox.
We don't spam. This is 100% Goodies!