Staying in shape is of great importance in this era of technology which has limited our outdoor adventures. The technology boom has made us stay indoors most of the time.
The concept of a home gym is both innovative and convenient. Gyms are congested, and memberships are costly. Travel time may bother some people. You can enjoy a solid home gym within the compound of your home.
A quick comparison and overview of the products that we`ll discuss today!
Home gyms are available at an affordable price and provide upper body, abdominal and lower body workout exercises. Here is a quick overview of the top 5 home gym products that we have selected.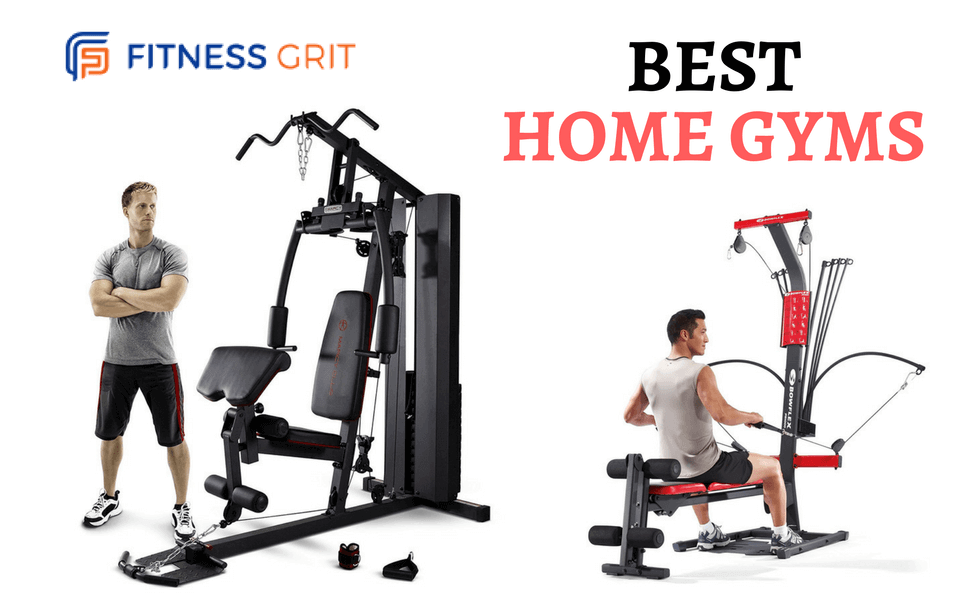 The BodyCraft Galena Pro is a complete package through excellent quality gear that allows all major muscle development at home.
The BodyCraft Galena Pro is designed to adjust anywhere in the house without consuming much space. 
The features provided by this home gym allows you to strengthen almost all the main group of muscles in the body in limited time frame. It provides supreme quality to the customers.
The home gym features a chest press functionality which allows you to work out your shoulders and triceps. The Pec Deck is patented and dual functionality. You can grab the handles and swing it outward to the height of the chest and press forward and together. A range of motions adjust for every size of the user. It also provides rear deltoid flys.
Additional features provided by Galena Pro are leg extension, leg curl, leg pull, low pulley station and abdominal crunch. Galena Pro provides you with muscle building functionality at a reasonable price at home.
The seat of the Galena Pro is composed of high-quality foam with good density. It is covered with vinyl that is high in density. The Foam provides great lumbar support. The seat and seat back can be adjusted fully. The low pulley station is an excellent feature. It can be accessed very easily. It also provides the user with a lot of space to perform exercises like leg kicks, arms curls, low rows, deltoid raises and much more.
The Bench press station allows users with different body sizes to adjust the starting point appropriately. It also provides a variety of exercises like bench press, incline press, shoulder press, and mid row. The foot plate is adjustable to accommodate users of all sizes.
The BodyCraft caters for customer service. There is a limited lifetime warranty included against defects. The guide provided with the Galena Pro provides extensive instructions to unbox and assemble all the pieces.
Assembling the pieces is easy.
The home gym is highly comfortable.
The quality of the whole machinery and individual pieces are superb.
It comes with a limited lifetime warranty.
This set does not cover a lot of space. You can put it anywhere in your home or even in your room.
The assembling takes time to adjust especially if you are dealing with this kind of machnery for the very first time.
The price can be high for some.
 
You can get total body workouts and muscle strengthening with this Marcy Home Gym. The quality of this particular home gym is extremely impressive. It saves space, and you can adjust it anywhere in your home easily.
It allows you to work out your whole body easily. You can also focus on strengthening any individual muscle group with this home gym.
The durability of the whole framework is outstanding. It comes with 14 gauge steel tube frame. The weight stack is coated with vinyl, so the entire assembling is long lasting. The weight stack is protected with an enclosure to ensure safety. The steel tubing has a large diameter.
The features provided by this home gym are worthwhile. The weight stack lock adds to the safety of the customer. The press arm offers dual functionality and is multi-purpose. It allows you to strengthen your pectoral muscles. You can change the press arms from chest press to vertical butterfly workout that covers whole upper body workout.
The arm curls composed of foam that is great in quality and quite high in density. It provides maximum comfort to the customer. They can be adjusted to accommodate a variety of body sizes. The leg developer allows a full lower body workout. It allows muscle strengthening of quadriceps, hamstrings, and glutes. The roller pads are designed oversized on purpose to allow stress-free leg workouts.
It is a very good time-saving home gym. You do not have to change cables, so a lot of precious customer time is saved. You won't have to reconfigure the assembly every time you want to switch exercise.
The quality of the home gym is excellent.
It does not occupy a lot of space in the home.
You can perform whole body workout without changing cables.
The cable pulleys are not very smooth.
The seat is fixed. It cannot be adjusted according to the body size.
There are no explanations with the diagrammatic illustration in the instructions of assembly.
The Bowflex home gym is sturdy and good quality. It allows you to strengthen your muscles at an affordable price.
It provides a little cardio training as well. 30 strength exercises can be done with Bowflex home gym. It also supports a built-in rowing station.
It allows a full body workout. You can work your abs, arms, chest, shoulders, back as well as lower body. The lat pulls down has triple function hand grip. It also supports a horizontal bench press. The leg extension and leg curl exercises can be performed with roller cushions that are upholstered and measure about four inches.
You can roll the rowing machine rail when you have finished your workout for the day. There is only one size available.
The Bowflex is a full body workout system that can be bought at a moderate price with the minimum coverage of space at home.
The rowing station is built in.
Can perform thirty muscle strengthening exercises.
The quality of the overall assembly is commendable.
The instructions provided with the assembly are really easy to follow.
It is available in only one size.
Changing the cables can be a bit tricky.
The home gym supports six workout stations that shape and strengthen your muscles. This home gym comes with an exercise chart so you can work efficiently on each muscle group.
The durability of this home gym is commendable.
The high pulley with lat bar allows you to strengthen your lat and back muscles. The low pulley allows you to perform a wide range of exercises to build your biceps, triceps, deltoids, forearms, trapezius and much more.
The chest fly strengthens your pectoral muscles and helps to build interior deltoids. The four form leg developer allows the development of lower body muscles.
The steel tubing of the whole workout station is highly durable and is built to last longer. The Weider home gym is also provided with ankle straps. The seat is made with high-quality vinyl.
The home gym occupies less space and allows full body strengthening exercises work stations.
The quality is excellent.
The price is very affordable.
The disadvantage is that the assembly of all the parts might consume some time and energy.
This workstation is a comprehensive top class workout station for your entire family. Even kids and old people can work out in this station.
The fitness level of this home gym ranges from the beginner to advanced high level.
The Total Gym is renowned for its extensive usage in rehabilitation centers. It helps recover people from physical injuries. The whole assembly is shipped with a wing attachment; leg pull accessory, ribbed squat stand, 5 DVD's to guide your workout routine, an exercise chart to boost fitness, a training deck, and a nutritional guide plan.
You can perform 80 exercises with this home gym. You can enhance your physical strength considerably with this home gym. An added benefit is that this home gym is foldable so no fuss over the assembly. There is a 6-month warranty on this home gym. The frame supports a lifetime warranty.
You can work out your whole body at home without requiring much space.
You do not need to perform assembly tasks as this home gym can be folded.
Our Top Home Gym Recommendation
Our top home Gym recommendation is BodyCraft Galena Pro home gym. The BodyCraft home gym requires less space and provides full body workout facility.
A wide variety of full-body exercises is provided by this home gym. You can tone your upper body, lower body as well as abdominal and back muscles.
This home gym is for everybody, from the beginner level to the advanced level. Most customers are satisfied and happy with its performance.
Share this guide - and help somebody today!
Fresh Marketplace Updates in your Inbox.
We don't spam. This is 100% Goodies!