Over the past year, you've probably been spending more time at home, so there's never been a better time to stay in shape without needing to head to the gym.
All you need is a minor investment in some suitable gear and you could sidestep that monthly membership fee without falling behind with your fitness goals.
Whether you're working out at home instead of the gym or alongside your regular visits, there's no substitute for a comprehensive home gym.
Today, we'll be summarizing the key benefits of these home gyms:
Home gyms are available at an affordable price and provide upper body, abdominal and lower body workout exercises. Here is a quick overview of the top 5 home gym products that we have selected.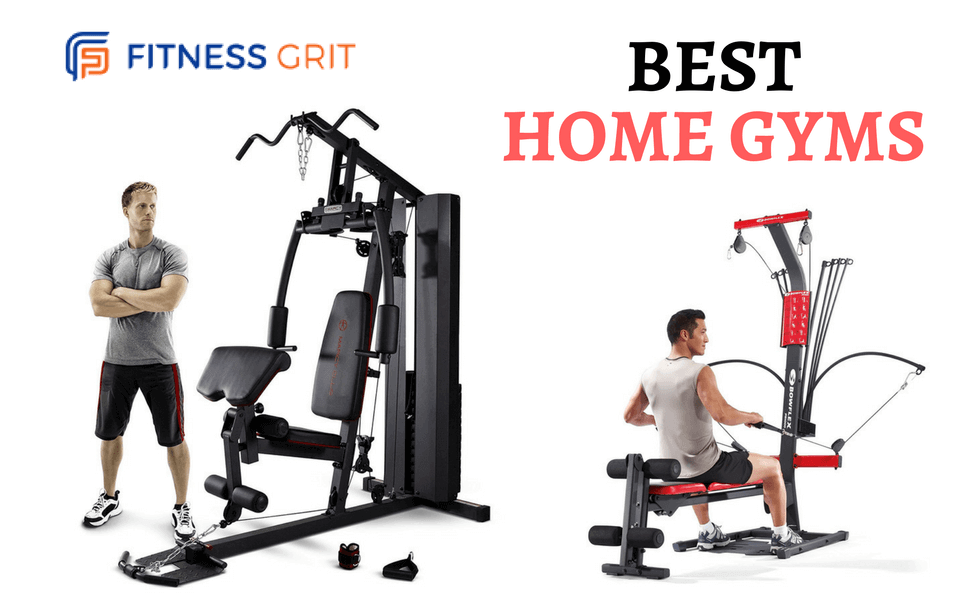 Bowflex gym equipment comes from the mighty Nautilus stable so you'll get impeccable brand heritage married to impressive build quality and great durability. In return, you'll need to dig deep for the privilege, so how does the Blaze shape up?
Well, off the bat you get a relative bargain for a Bowflex. This home gym isn't cheap, but it still comes priced within most people's budgets. 
Despite the range of workouts at your disposal, this home gym is easy to use even if you're a complete beginner. You benefit from 7 workout programs punched in and you also get a workout program supplied with 60 different routines. You won't get bored and you won't plateau, either.
Power rod resistance of 210 pounds should get you started nicely. If you start improving and you feel the need for more resistance, this can be easily upgraded to 310 pounds. Push it up to 410 pounds when you really start feeling those gains and getting stronger. A lat bar and squat bar along with multiple positions for the cable ensure you can target all main muscles groups. The sliding seat rail allows you to replicate rowing while also performing leg presses.
Although Bowflex customer care has a checkered reputation, this home gym is so good you shouldn't need to call for assistance. In a sea of average home workout gear, Bowflex stands out.
7 trainer-built programs baked in
Foldable bench and wheels streamline storage
210 pounds of upgradable resistance
Customer care can be questionable
You can find various iterations of this classic Gold's Gym set-up, and the XRS-50 is solidly built, keenly priced, and offers you the chance to hit your fitness goals without ever needing to leave home. In times like these, that alone is a huge selling point.
Target all your muscle groups with this simple but highly effective workout unit.
280 pounds of resistance should keep you challenged even if you like lifting fairly heavy weights. The combined fly station and chest press gives you the chance to pump your chest up without heading to the gym three times a week. There's a pull-down bar enabling you to hit your lats, while a 4-roll developer is designed to ensure you never miss leg day again.
A basic exercise chart from a personal trainer is bundled so you can get going right out the box without needing to be an accomplished lifter.
Make sure your lower and upper body get the workout they deserve this year even if you're not always able to get out to the gym. With all the weights you need included on the stack, what are you waiting for?
Works all major muscle groups
280 pounds of resistance
Exercise chart with simple programs included
Build quality could be improved
Do you want a home gym that doesn't call for tasky, involved assembly? If so, the Total Gym XLS Home Gym lets you get started right out the box without any tinkering around.
This machine is bulkier so make sure you have space to accommodate before committing to purchase. Overall dimensions are 19 x 90 x 43 inches. The advantage is that this gym kit folds down when not in use so it measures 19 x 51 x 9 inches. If this sounds like a suitable fit, how does this gear stand and fall?
The maximum weight capacity of 400 pounds places this set-up head and shoulders above the opposite and makes it the perfect home gym for heavier users looking to bulk up even more.
The exercise chart included gives you 35 diverse routines so you can start experimenting with this machine even if you're not too experienced. You also get Dan Isaacson's meal plan and nutritional program thrown in.
The squat stand lets you perform those power moves while you can utilize the bench for a broad spread of exercises.
A nicely padded glideboard means you can work out for extended periods without feeling any discomfort. The head support also helps you to stay focused on your form without worrying about injury. Motion is very smooth, too.
As long as you have the space for this home gym ­– a favorite of movie star Chuck Norris – you should find you can ratchet up your training without needing equipment overspilling everywhere. Road test this set-up at your earliest convenience.
Generous 400-pound maximum weight capacity
35 exercise programs to get started with
Supportive, padded glideboard
Bulky when not folded down
Another great home gym from the Total Gym stable up next in the form of the Apex G3.
With 8 levels of resistance, you can tone and strengthen your muscles from the comfort of home. Dip bars and a squat stand will help you engage your upper body, while the leg-pull accessory enables you to round out a full body workout.
Buying this home gym gives you access to Gold Gym on-demand video platform so you can stream your trainer-led workouts onto any device.
The manufacturer recommends 3 to 5 weekly sessions of 10 to 20 minutes. We suggest you use this as a guideline, but tweak these timings to suit. The most important thing is not to train the same muscles on consecutive days. Resting allows you muscles to repair and grow.
If you're not sure how to get started, there are 70 workout programs to choose from and a handy chart, too.
Total Gym has been helping people just like you stay in shape for over 40 years. Road test this home gym and you might not be renewing your gym membership next year.
Access to Gold Gym TV
Broad range of accessories
Great for toning all muscles
If you're constantly traveling or moving around and you need a portable home gym so you never miss a workout again, the BodyBoss 2.0 improves on the original iteration of this modern classic. What do you get in this kit?
This Kickstarter project made good gives you everything you need for an upper and lower body workout in a compact case you can carry around with ease.
A platform provided gives you the stability you need to work from. You also get a collapsible workout bar and some straps that extend your options to more than 300 workout programs. You'll get a detailed guide and a training program thrown in for good measure. A door anchor lets you hit your chest hard, too.
From toning and strength training through to calorie burning for weight loss, you won't realize quite how versatile this home gym is until you try it.
The only meaningful complaint we could level concerns the disappointing quality of the videos you'll have access to. In terms of the equipment itself, this type of set-up isn't for everyone, but if you're crunched for time and looking for a portable home gym, it's the ideal solution.
Completely portable full body workout kit
Perform over 300 exercises
Free start-up guide and training program
Quality of videos leaves something to be desired
1) Are home gyms worth it?
The answer to this is largely dictated by your fitness level and goals. If you're a keen athlete and you hit the weights hard, the average all-inclusive set-up designed for beginners won't be challenging enough or robust enough. If you enjoy staying in shape but you don't lift super-heavy weights, and you don't intend to use your home gym for hours every day, you'll find the home gyms we review today will help you immensely. All that counts is buying in line with your needs.
2) Are home gyms better than free weights?
All that counts is whether they are better for you. With machines, you won't need to lift a 50-pound plate to benefit from 50 pounds of resistance. To achieve the same variety with a machine, you'd need a home gym packed full of weights.
3) How long does it take to assemble home gyms?
This varies substantially from brand to brand. If you struggle with tasks like this, you should look for some of the easy-assembly models we review today.
Share this guide - and help somebody today!
Fresh Marketplace Updates in your Inbox.
We don't spam. This is 100% Goodies!