One of the key advantages of building your own home gym is that you can include everything you want and nothing that you don't.
While heavy weights, rowing machines and treadmills are great if they align with your fitness goals, many people are looking for a much gentler workout.
A quick comparison and overview of the products that we`ll discuss today!
Whole body vibration (WBV) therapy is continuing to soar in popularity as a no-impact way to get moving and stay in shape.
WBV therapy has a shower of benefits from giving your circulation a jolt through to toning your muscles.
Whether you're unable to get around as much as you'd like or you're simply getting on in years and not as fit as you once were, in today's best vibration machine reviews we'll outline 5 of the best units on the market…
Best Vibration Machine Reviews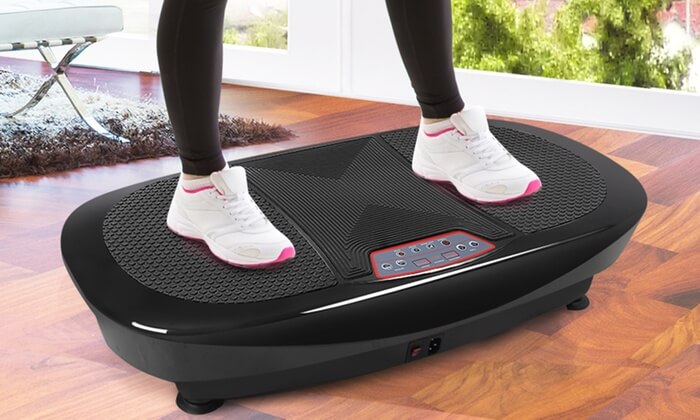 First up in our vibration machine reviews is a substantial platform from Merax Carzy coming in at a reasonable price point.
This is a great starting point if you're looking to integrate WBV therapy into your training program.
Whether you're looking to pile on some lean muscle, tone up or torch some calories, you can reap a variety of health benefits from this platform.
Underpinning this bulky vibration machine is a highly capable 2000-watt motor. Despite the power on tap, this machine runs very quietly so you won't disturb family or neighbors. Side bars give added stability and this platform can take loads of up to 300 pounds making it ideal for most users.
ABS and metal throughout result in surprisingly strong build quality. The price of this bulk and solidity is an 86-pound unit that's a pain to shift around. Think carefully about where you plan to set this platform up and make sure it won't need moving about too often.
Whenever you're embarking on a new style of training, even when it's gentle like WBV therapy, it pays to start slowly. With a whopping 160 vibration levels, you can work your way up until you find the perfect match with your fitness goals.
If you're not entirely sure where to begin on this platform, take advantage of the 10 pre-set routines so you can get a feel for things and build your confidence.
You can keep your eye on the vibration speed and time of workout on the simple but effective LCD display.
If you've been hunting down a cost-conscious vibration machine from a brand you can trust, the Merax Crazy is a smart choice.
Potent 2000-watt motor generates impressive power
Train your upper body using yoga straps
Huge choice of 160 speed settings
All fitness levels catered for with 10 pre-set programs
Crisp LCD display with all key data displayed
Exceptional overall value for money
Weighs a hulking 86 pounds so tough to shunt around
If you're looking for a vibration machine that delivers first-rate connectivity in a very scaled-down package, the Hypervibe G-10 might not be the cheapest vibration machine at your disposal, but it's certainly among the very best.
The chief advantage of this platform is the way in which you can control it from your cell phone, tablet or laptop through Bluetooth. As well as 40 dedicated, goal-focused programs, you'll also be able to browse through over 100 videos so you'll be almost overwhelmed with material. You'll get free access to the app which works seamlessly on both iOS and Android.
Measuring up just 26 x 16 x 7 inches and weighing around 30 pounds, this is the ideal platform if you need to move it around from time to time. The tiny footprint also makes storage a breeze when it's not in use if you don't have the space for a full personal gym.
Unlike larger vibration platforms, you'll get no handlebars with the G-10 so it's nothing but a base. What you lose out in terms of functionality you gain when it comes to storage so consider which is most important to you.
Also, if you're looking to target your upper body as well, you can always make a small investment in some resistance bands so you can get even more out of your training.
Despite it's small dimensions, this platform holds users up to 310 pounds so it's suitable for more or less anyone. This platform works with pivotal motion so it will deliver vertical force to your body when you're saddled up.
If portability and ease of storage come high on your list, the Hypervibe G-10 is a vibration machine that punches above its minimal weight.
Bears loads of 310 pounds so ideal for almost all users
Bluetooth connectivity and access to ample data
Extremely lightweight and compact for such a stable machine
40 pre-set fitness programs to get you off to a flier
Get a full body workout with resistance bands
Integrates well with mobile app
Fairly expensive
Pretty low frequency range
Next up in our vibration machine reviews is a budget-friendly platform from Confidence Fitness that continues to attract legions of loyal fans for its combination of efficiency and affordability.
With 600-watts of power, this plate is not exactly an industrial-strength powerhouse but you'll get more than enough oomph for most needs.
Navigating the console is super-simple. You'll get 3 pre-set programs if you're not sure where to begin and you can keep tabs on speed settings from here as well as monitoring your heart rate.
This platform works well for beginners while you should still find it challenging if you train a little harder. With 50 speed settings to choose from, there should be something for most users.
Although you'll get the performance you'd expect from a full body machine, this platform occupies a very minimal footprint measuring up at just 29 x 27 x 48 inches.
While it's relatively small, you'll be able to partially lie down when using this machine so you can really widen the scope of your training.
Weighing in at 70 pounds, load-bearing capacity is a more than acceptable 300 pounds so it will support even heavier users without feeling the strain.
According to the manufacturer's claims, 10 minutes on a vibration platform can give the same returns as an hour of regular cardio. Whatever the specifics, you'll certainly be able to ramp up the intensity of your training if you make a modest investment in this neat little machine.
You'll get a 1-year limited warranty which could be better but you can't expect too much more at this price point.
If you're looking for a compact but highly efficient vibration machine to slot into your home gym without bankrupting yourself, this model from Confidence Fitness is well worth a place on your shortlist.
Get a complete body workout in just 10 minutes so great for busy people
Highly intuitive controls and display
BMI monitors to give you all the information you need to maximize your training
Very wide range of speeds to suit all fitness levels
Affordable without dipping out on build quality or performance
Handlebars and arm straps for added support
Need to keep tightening screws to maintain tension of the platform
As we near the end of our vibration machine reviews, we've got another freestanding whole body platform, this time from Axis-Plate.
Powered by a 500-watt motor, you won't get the raw grunt of some vibration machines but it's more than fit for purpose.
Measuring 27 x 29 inches, the platform gives you adequate latitude to perform a host of routines that will be greatly enhanced by the vibration.
While marketed as compact, this is a reasonably substantial unit. If space is of the essence, you're better off looking at one of the smaller machines we review.
A whopping 99 speed settings mean you can start very slowly and ease your way up to the most challenging of workouts. However you choose to use your platform, using it as a base can seriously enhance your gains.
The uncluttered console lets you monitor all the stats you need to keep on top of your workout whether you're aiming for fat loss or just looking to tone up and get moving.
BMI sensors are built into the handlebars so if you're focusing on weight loss, you'll be able to keep track of your progress.
You'll get some removable resistance bands thrown in if you want to ensure your upper body doesn't miss out on the benefits of your vibration machine.
Assembly is a breeze and you'll be up and running within minutes so this is the ideal machine for anyone not so practically inclined.
If you've got a roomy home gym and you're looking for a solid addition to your cardio arsenal, investing in this platform from Axis-Plate could be the best thing you did this year.
Comes almost fully assembled so get going straight out the box
Customize your workout with adjustable settings
99 speed settings so ideal for all fitness levels
3 pre-sets to get things rolling
Affordability twinned with performance
Removable resistance bands allow you to laser in on upper body
265-pound weight limit could be improved
Fairly bulky at 62 pounds
Rounding out our vibration machine reviews, we've got a mid-price whole body unit from Rock Solid which is a great combo of performance and portability.
Since everyone has differing space limitations in the home gym, we've tried to include a selection of machines today to suit both impromptu fitness areas and full-blooded personal gyms.
If you need to stash your machine away when not in use, this platform is just 26 x 14 x 6 inches and weighs a mere 35 pound so you'll have no problem whatsoever.
Once you're up and at it, you can flick through 99 speed settings suitable for the lightest of workouts through to a much more punishing routine.
For anyone looking to engage in a whole body workout, the resistance bands provided are invaluable. This is where vibration machines come into their own offering you such a variety of options so you need never get bored of training.
Whether you choose to use this platform to help out on your weight loss journey or you want to hit the cardio really hard, don't be tricked by the small stature of this whole body vibration machine. If could be the most adaptable addition to your home gym yet.
Rock Solid excel when it comes to guarantees. If you're not happy during the first fortnight, you can return your platform for a no-quibbles refund. If you're still in any doubt about trying this machine, this bold promise removes any real risk on your part. If you decide to keep it – which we're sure you will! – you'll then be covered by the manufacturer for 2 years which is more than most of the competition will offer.
Try one today, what have you got to lose?
99 speed levels catering for all abilities from beginners to advanced
Incredibly portable given its functionality
Remote control vibration a nice touch
Resistance straps thrown in
2-year limited warranty for your total peace of mind
14-day money back guarantee removes any reason not to buy
Not the cheapest vibration platform
OK…
Now you've had chance to familiarize yourself with 5 of the best vibration machines on the market, we'll double down on the benefits of harnessing WBV therapy…
What Is a Vibration Machine?
Vibration machines are also called vibrating plates or vibrating platforms.
The core purpose of these machines is to help you start passive exercising. That said, you can press a vibration platform into action far more actively as well if you have more ambitious fitness goals in mind.
From weight loss clinics and gyms and on into the home gym, whole body vibration therapy is continuing to gain currency as more people appreciate the array of health benefits it can bring about.
Vibration machines come in a broad spread of sizes and configurations but they share a common method of operation. Vibrating plates under your feet cause pulses to shoot up through your body. Your brain is tricked into feeling as though you're falling. Your muscles then reflexively contract to compensate for this.
Why Use a Vibration Machine?
While you might not initially be convinced, vibration machines have a number of uses so these versatile pieces of kit are well worth considering for your home gym if you have sufficient space to accommodate one.
Dramatically Decrease Your Workout Time
The speed at which your muscles react is staggering. When you're using a vibration machine, your muscles can contract up to 50 times each second. Whatever type of strength training you're doing, the effect will be intensified so you'll end up getting more done in less time.
If you set up a gym at home, you'll save still more time since you won't need to travel to and from your local place or wait around to use machines. As long as you have the discipline to keep training, home gyms offer the ultimate in flexibility for anyone with a busy schedule.
Coordination, Flexibility and Balance
If you carry out stretching exercises on a vibration platform, you'll enjoy a superior range of motion.
Your core will be fully engaged while your hip flexors will be braced to stabilize your body nicely.
You can give your joints a light, no-impact workout while also strengthening and toning your muscles if you train on one of these nifty machines.
Enhance Your Metabolism and Increase Fat-Burning
Whatever cardio routine you perform on your platform, this will in and of itself give your metabolism a lift. As well as giving you more energy, your body will be better prepared to start torching that excess fat.
One thing to bear in mind is that if you're buying a vibration machine primarily for weight loss, you need to eat a clean, healthy diet alongside exercising. You can't expect a vibration machine to undo overindulgence on its own.
Promotes Immune Function and Blood Circulation
When you use a vibration machine, your muscles are forced to contract. This helps to push your blood more freely around your system leading to improved blood circulation.
The vibrations also stimulate your lymph glands. As more lymph fluid starts to travel through your system, you might notice a strengthening of your overall immune system.
---
How To Use a Vibration Machine
Using a vibration machine couldn't be simpler.
Whether you want to engage in some cardio or carry out weight-bearing exercises, hop on your platform and see your gains dialed up.
You need to do little beyond firing the machine up, stepping on and going about your business.
You can remain static on your platform, stretch or get a little more energetic. The beauty of these machines is that you can use them as a foundation for a wide range of activities making them a great multi-purpose addition to any home gym.
What To Look Out For When You're Buying a Vibration Machine
Even at the lower end of the market, vibration machines are not cheap. It pays to think closely first about your intended use so you can focus on the right type of machine.
You should also read plenty of impartial user reviews. Once someone has parted with their hard-earned money for a product, they tend to give pretty honest feedback. We help you out here by drawing your attention to any noteworthy flaws.
That said, vibration platforms are by design very simple appliances so we'll concentrate on the 3 prevailing factors when you're looking for the best vibration machine:
Versatility
Ease of Use
Price
Versatility
With so many different routines you could perform on a vibration platform and each of them requiring varying ranges of motion, versatility is one of the key selling points.
Lineal Motion: When you're moving up and down, as with push-ups or skipping, this is known as lineal motion
Pivotal Motion: Moving from side to side is called pivotal motion
Dual-Motor Technology: With some vibration machines, you'll be able to switch between lineal and pivotal motion
Only you know whether you have quite narrow training needs or whether you need a machine capable of a number of applications.
Ease of Use
You need a vibration platform which is stable and comfortable to use but you should also make sure it's user-friendly.
Look for controls within easy reach and make sure any console or display is easy to navigate and provided all the data you need.
Give some thought to mounting and dismounting your machine and make sure you'll have enough room to do this comfortably.
Price
Budget will always play a part in any buying decision but you should not let the bottom line only drive you.
With vibration machines, to a graet extent you get what you pay for. This is not to say you can't get any affordable machines, rather that very cheap platforms are quite likely to let you down.
We recommend starting your research process by fixing on an upper price that you will not go beyond as you will immediately whittle your options down. From this point, you don't need to think about price too much as you'll be within your target zone.
We very much hope you've found something to your liking in today's vibration machine reviews.
We try to bring you reports on as varied a range of equipment as possible since everyone has differing fitness goals.
If you're prepared to try something different with a vibration machine, you might find yourself increasing your gains while spending less time working out for the double-win.
Always feel free to get in touch with any queries or feedback and please come back soon!
Share this guide - and help somebody today!
Fresh Marketplace Updates in your Inbox.
We don't spam. This is 100% Goodies!